Spare Parts for Hospital Bed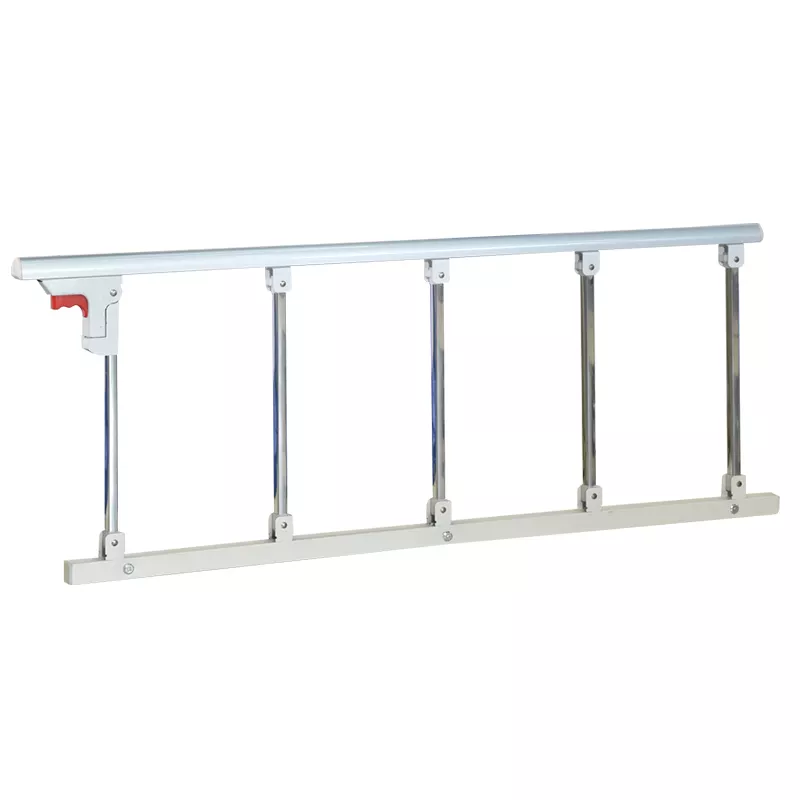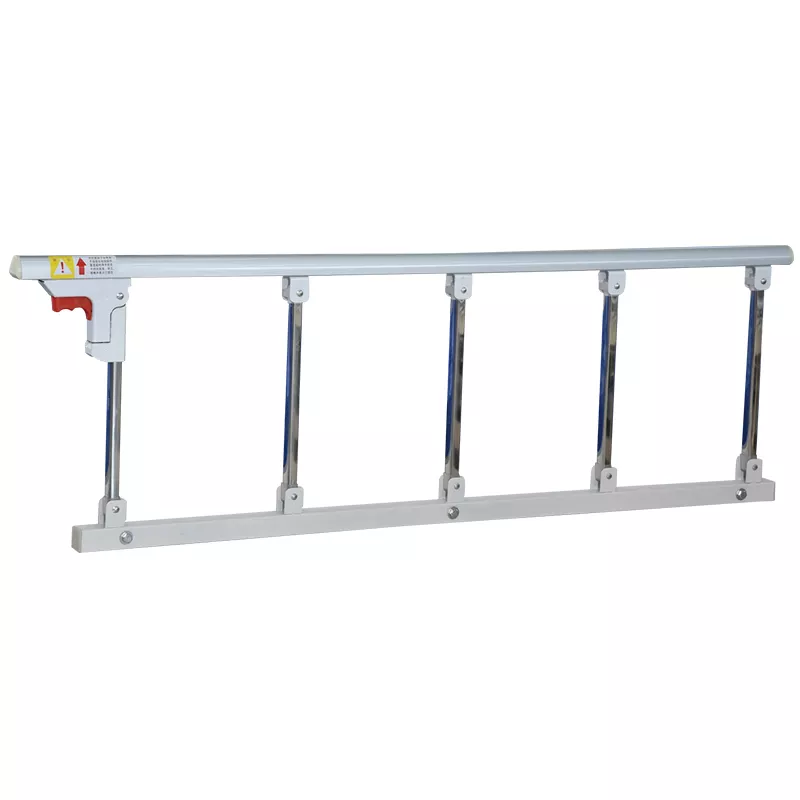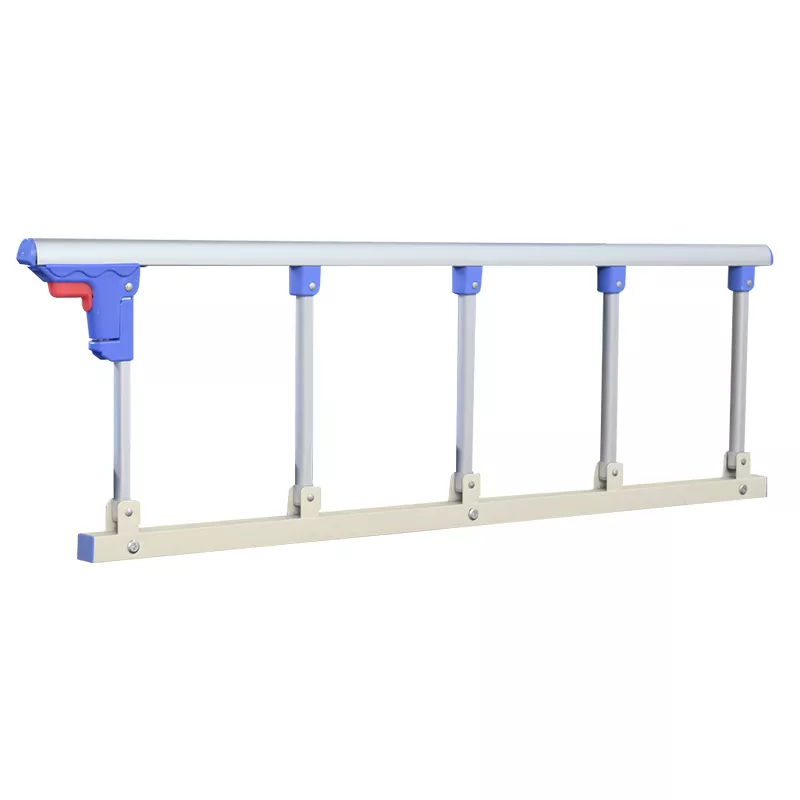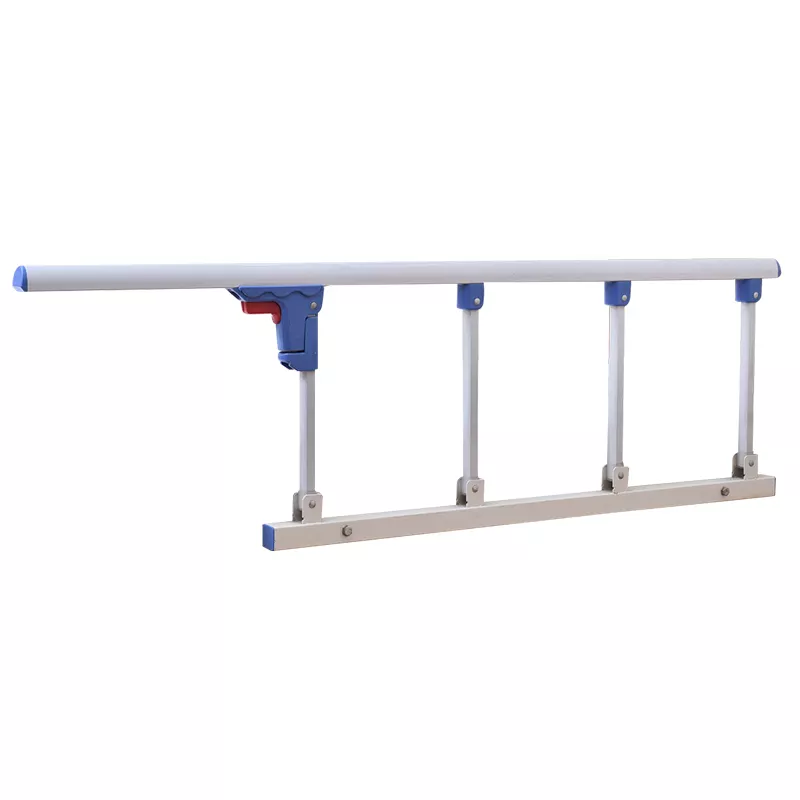 Side Rails for Hospital Bed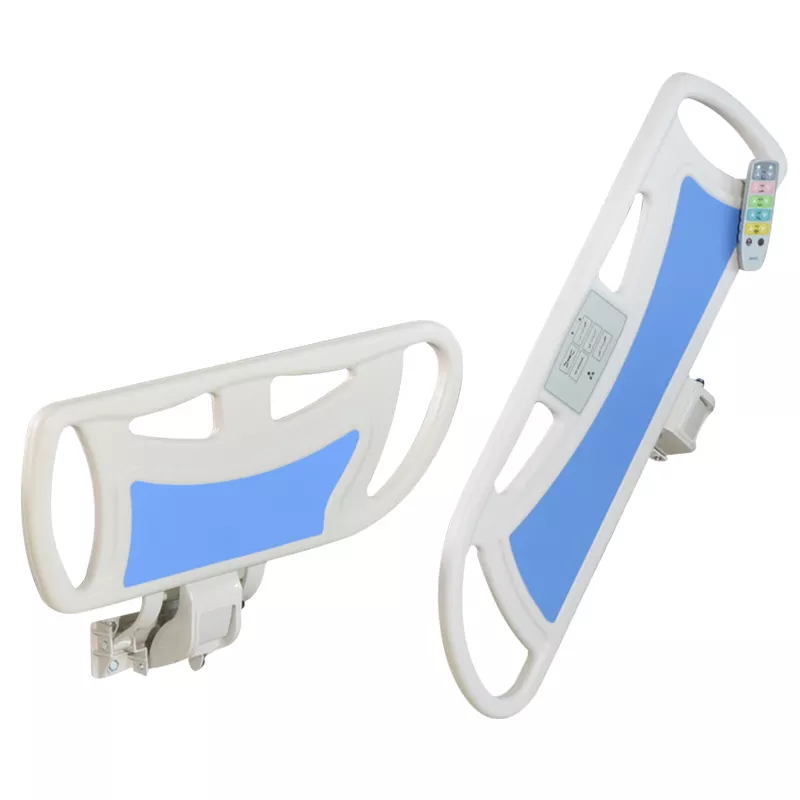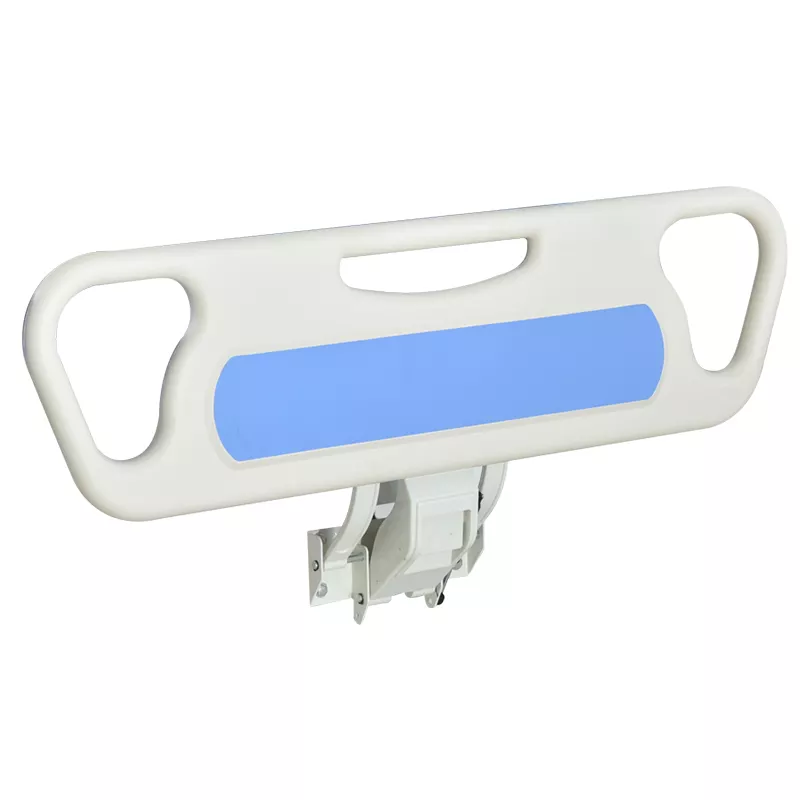 ABS Side Rails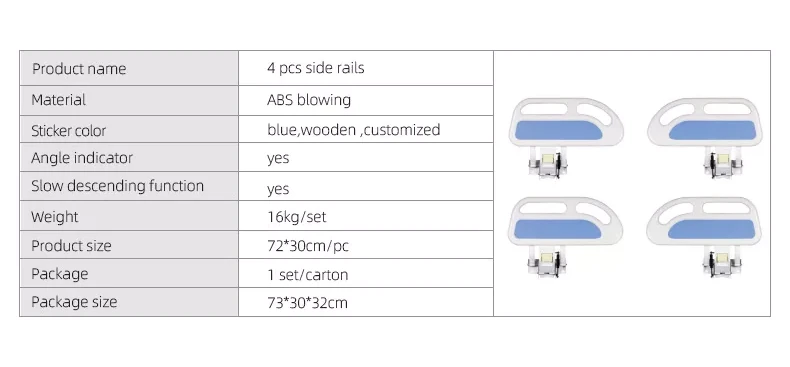 A side rail is a device that attaches to the side of the hospital bed. On some models, the bottom of the rail attaches to the rigid frame of the bed; others rely on the mattress's weight to hold them in position. The top of the rail rises above the mattress level and may include a mechanism or fixture so that the rails can go up, down, or taken off entirely.
Hospital bed side rails come in many sizes; they can be full-size, covering the entire length of the bed, while half-size rails are, as the name suggests, half as long as the bed. No matter the size, hospital beds can make being at home safer and easier to use for seniors and those with medical conditions.
Hospital Bed Side Rails Prevent Rolling Out Of Bed During Sleep
Uncontrolled body movements that lead to falling out of bed are common causes of injury among seniors and people who take certain medications. They often suffer from restlessness in sleep, leading to situations where the patient falls out of bed while dreaming. They may misjudge the width of the bed or their position in the bed and roll out. Certain medications can interfere with brain chemistry, making the risk of rolling more probable. People with dementia are also high-risk patients.
A side rail provides a barrier to prevent the person from moving, keeping them safely on the bed even if they attempt to roll over the edge. Adding them to a home hospital bed can help elderly patients and people at risk live more independent lives without worrying about falling out of bed.
Bed Side Rails Can Reduce The Risk Of Falls Getting In And Out Of Bed
For people with mobility issues and physical weakness, getting in and out of bed can be challenging. They may slip or lose their balance when moving on to or off their bed. A bed rail adds stability, guidance, and a place to put their hands, reducing their risk of falling. A well-installed rail can work as rigid support on which the user can put their weight when moving to get off the bed, standing up, or climbing back into bed.
Side Rails Can Give Support While Changing Position
Hospital beds aren't purely medical; these days, they are luxurious, allowing for more comfortable recoveries, better sleep, and a more at-home feel. One of the ways they do this is by accommodating a wide range of home care equipment; from extensions to convenient reading lights, accessories can make the bed a piece of medical equipment that will never feel like one.
They can also hold more health and support supplies. For example, hospital bed assist rails help those with mobility issues get in and out of bed and protect them from rolling off the sides. You can add extra ones along the side of the bed frame for more coverage, and these pieces of care equipment are great reminders for people who need help in and out of bed. Clients can also attach an overhead trapeze helper bar for additional assistance when they must reposition themselves in bed.
Preventing Side Rail Injuries And Risks
The best way to ensure the user experiences no problems with the side rails is to purchase them from the same source as you get your hospital bed. SonderCare side rails meet all of the safety guidelines published by the FDA and Health Canada. SonderCare's space-saving Assist Rails are adjustable into three different positions depending on the desired level of security: Protection, Assist, or Rest. They are capped with natural wood, making them easy to hold and provide assistance and unencumbered access for getting into and out of bed.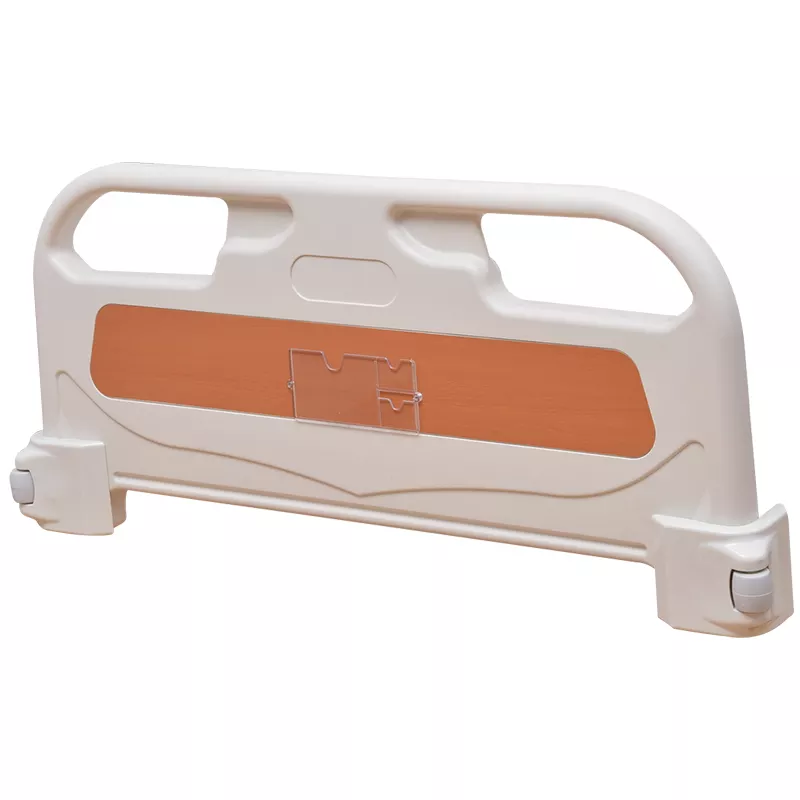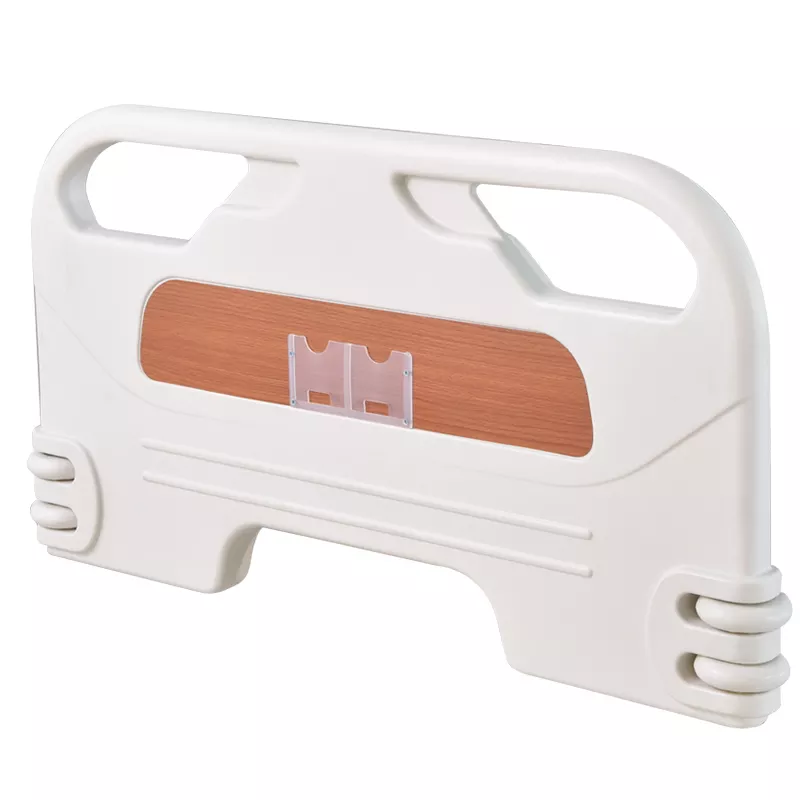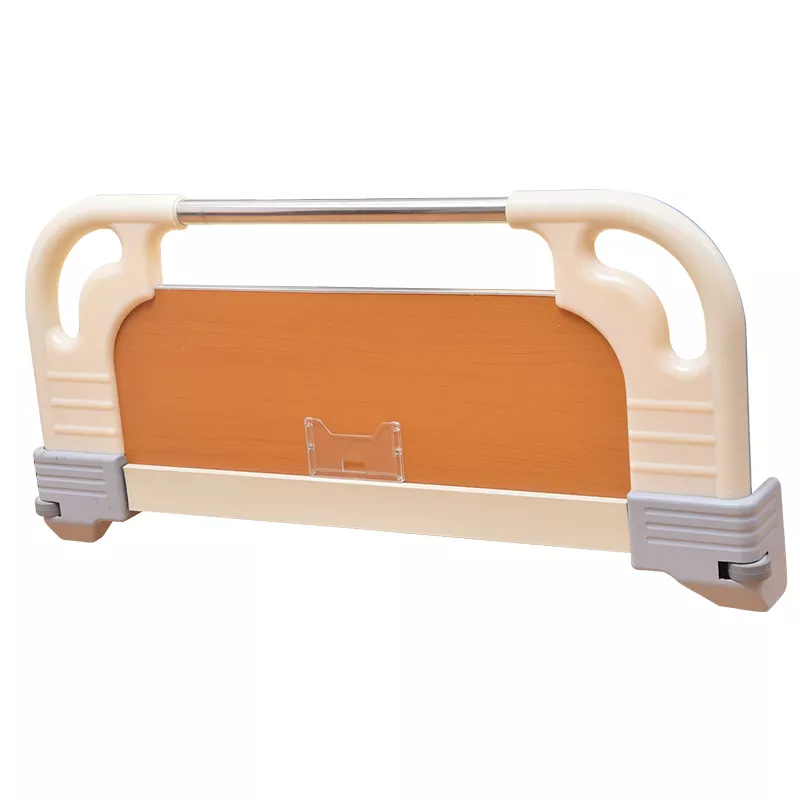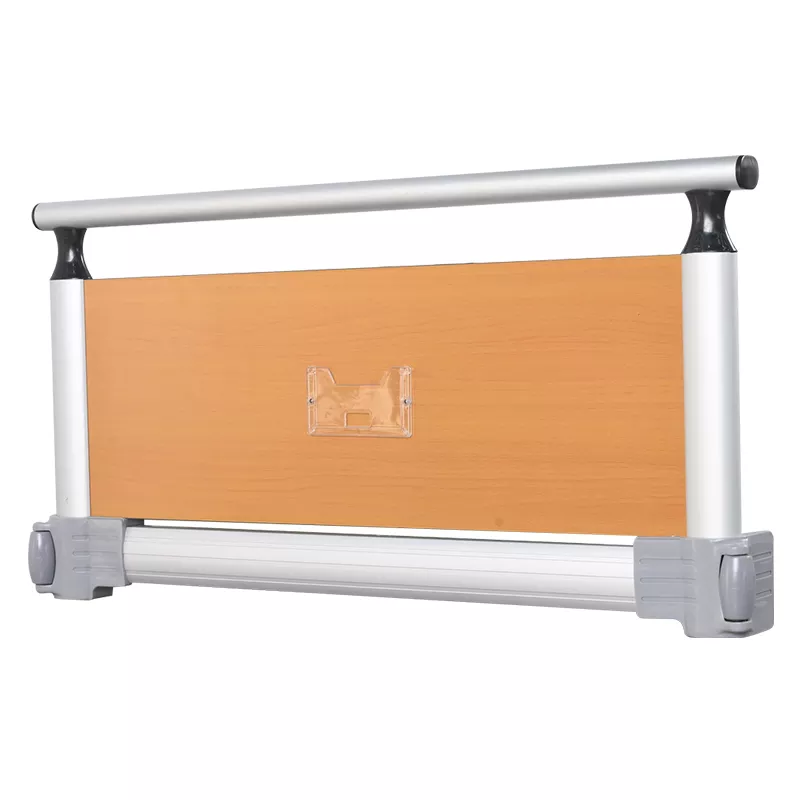 Hospital Bed Head & Foot Board
| | |
| --- | --- |
| Product Name | Headboard & Footboard For Hospital Bed |
| Material | ABS/wooden/ABS&Steel |
| Color | Optional |
| Size | 36*37*77 or as your requests |
| Net Weight | 17 kg |
| G.Weight | 18.1kg |
| Package | 4PCS/CTN |
| MOQ | 1 Set |
| Warranty | 1year |
| Function | Health Care |
Spare Parts for Hospital Bed: Hospital Bed Head & Foot Board
Spare Parts for Hospital Bed: Hospital bed head and foot boards are available in a wide variety of shapes and finish colors to fit into any décor. The head and foot boards should be mounted securely to the bed frame so that an overhead trapeze assist bar can be used if desired. The footboard may also be used to support pumps for air mattresses or venous therapy.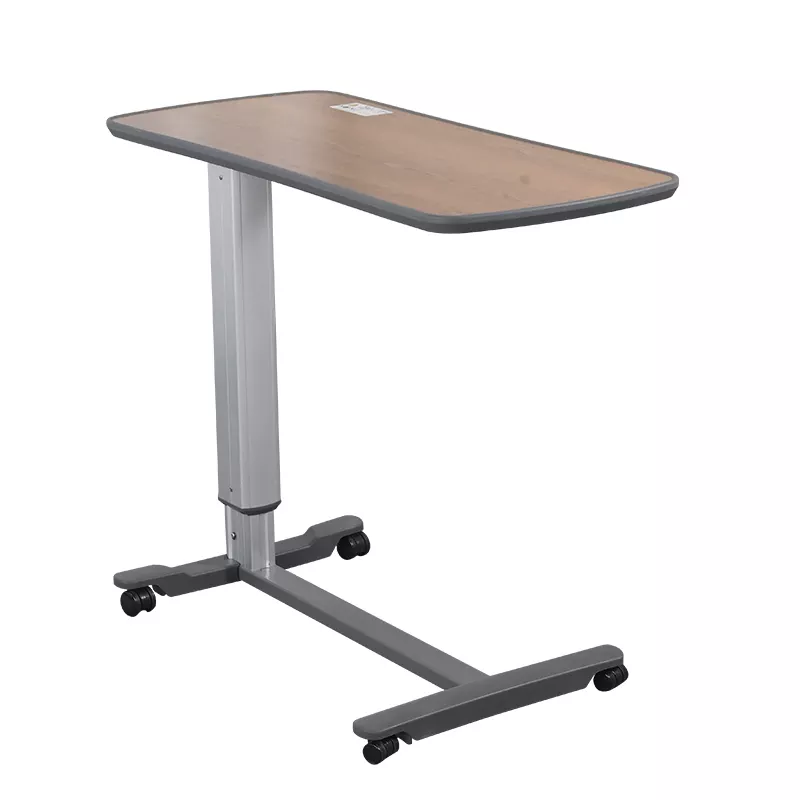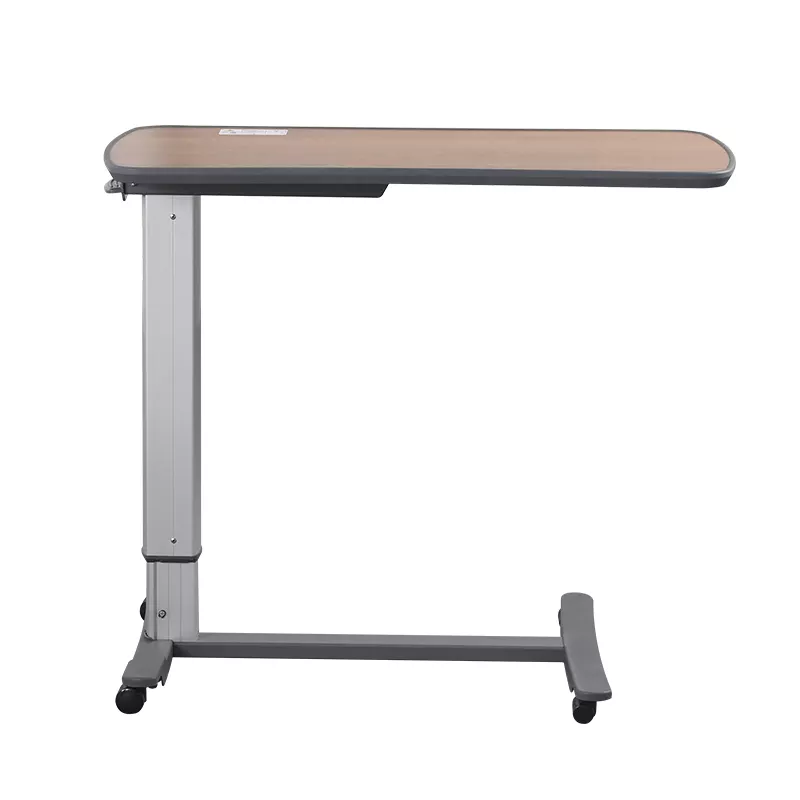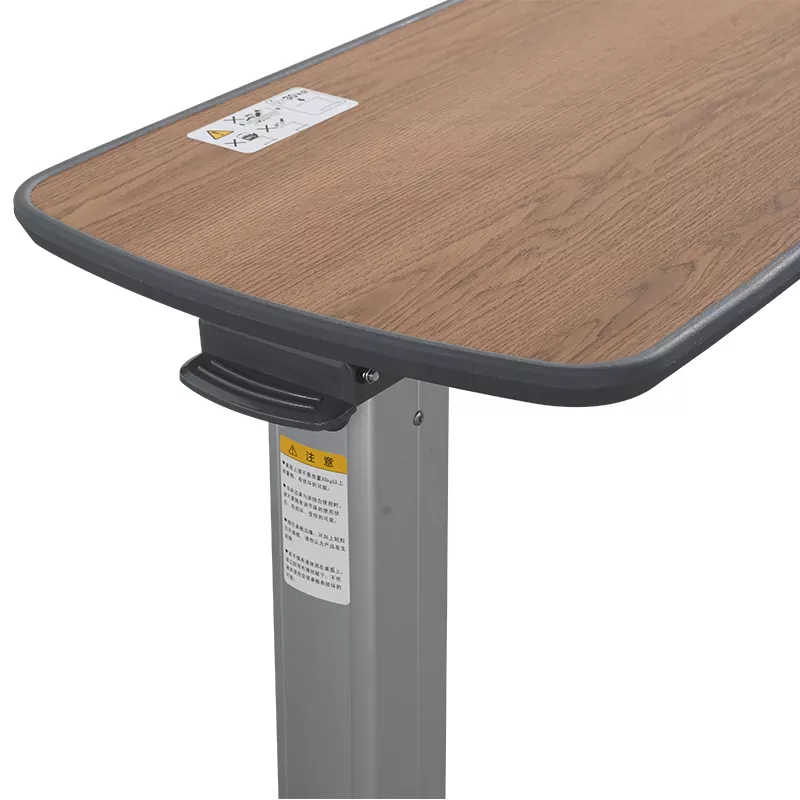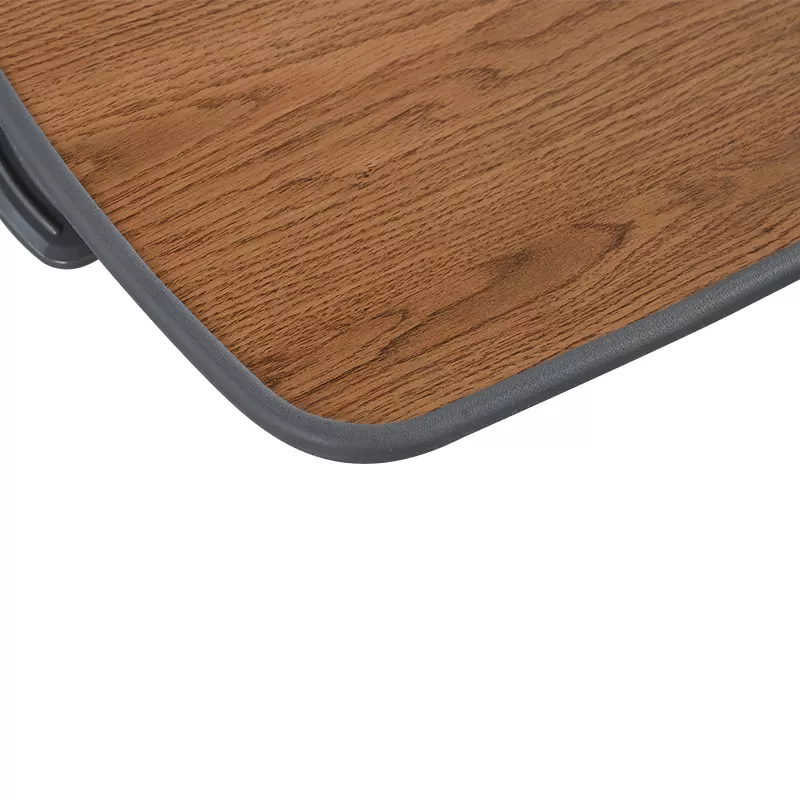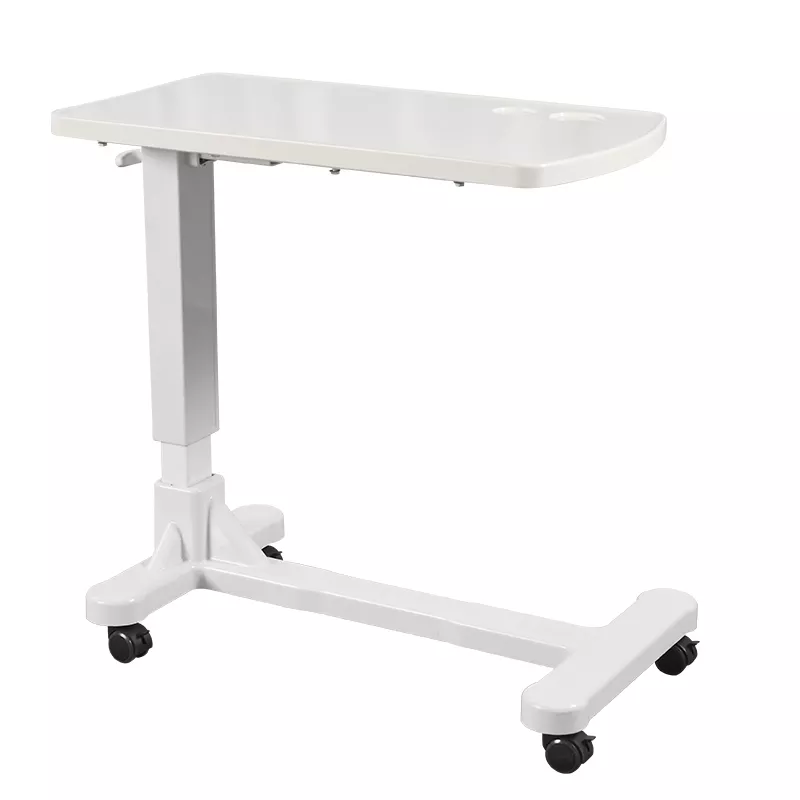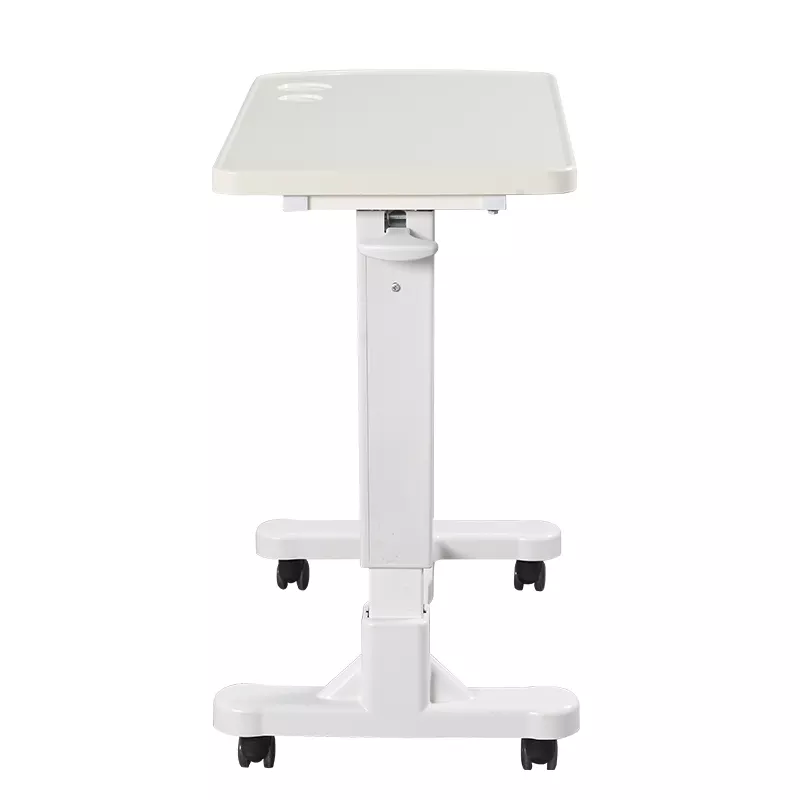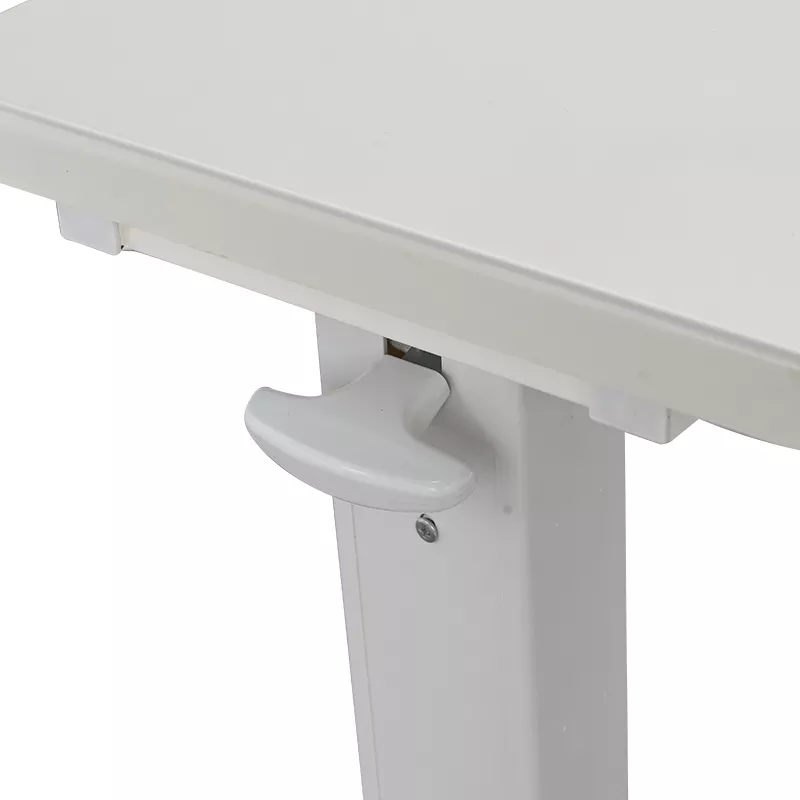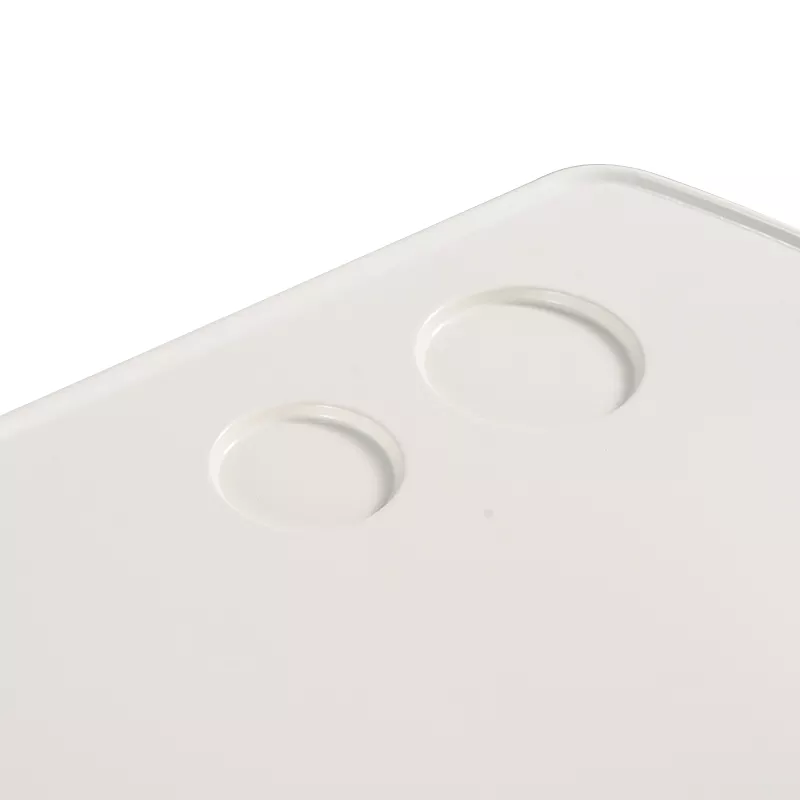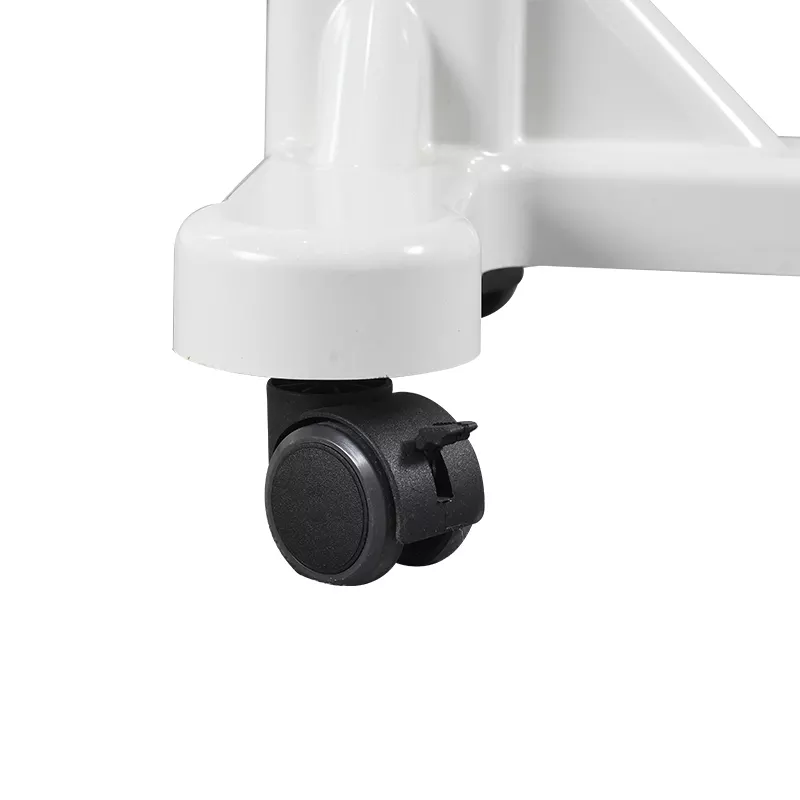 Hospital Over Bed Table
Product Name
Hospital overbed Table
Certificate
ISO
Warranty
1 Year
Color
White Color
Castors
4pcs Castors
MOQ
100pcs(1pc sample)
Hospital furniture
Patient Overbed Tables
Feature
Height Adjustale
Material
Wooden/ABS top&iron coating tubes
Adjustable height
84-107cm or as your requests
Spare Parts for Hospital Bed: Overbed Tables
Overbed tables can provide patients with a smooth, flat surface for eating, working, and putting down personal belongings while resting in a bed. They also offer a spot for healthcare professionals to set down their supplies while providing care services for the patient.
Hospital overbed tables can cater to all types of patients and caregivers. For instance, not all users eat like everybody else; some may have paralysis or other conditions that severely limit body movement.
The Wooden Extra Large Overbed Table provides users with a large, sturdy surface to keep reading material, food, or medications within easy reach. It's attached to wheels so patients, should they be able to, can move the overbed table if they no longer need it.