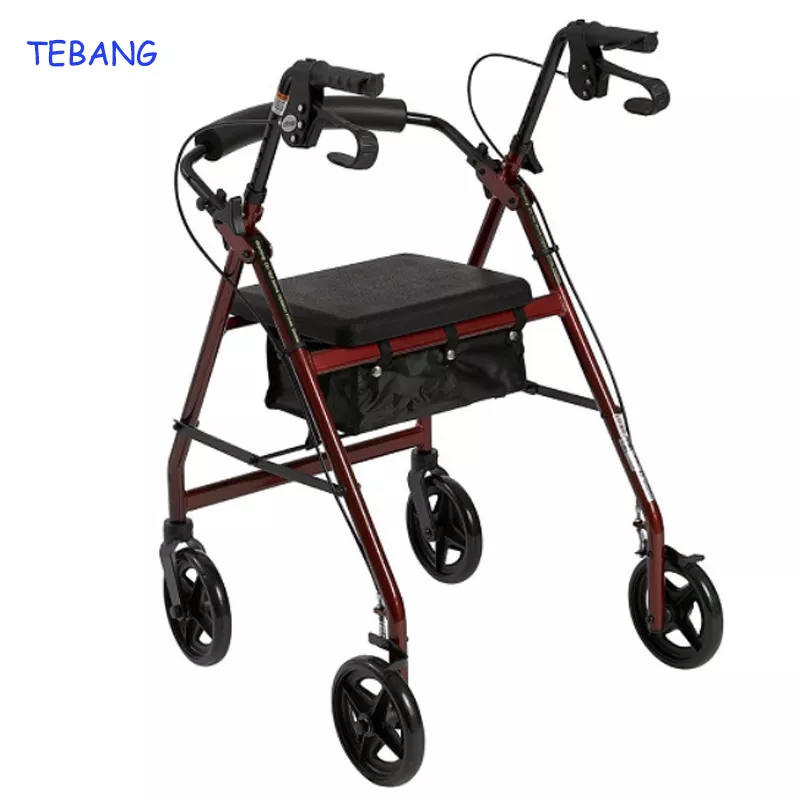 Rollator Walker
| | |
| --- | --- |
| Product name | Rollator Walker |
| Application | Hospital, Home, Clinic |
| Material | Carbon steel |
| Weight capacity | 100kg |
| Function | Walking aid |
| Size of seat | About 35cm*30cm |
| Total height | About 80-92cm |
| Seat height | About 53cm |
| G.W. | 20kg |
What is a Rollator Walker(four-wheeled walkers)
The four-wheeled walker is also called the "Rollator Walker". It is specially designed for the elderly. The elderly have decreased physical strength or have difficulty walking due to neurological diseases, brain surgery or various traumas. Walking aids can be used. The quality of our walking aids is guaranteed, and there are non-slip rubber pads, which are especially beneficial for patients during the recovery period. The functions are to maintain body balance in an upright position, support weight, train walking, and enhance muscle strength.
Tebang said that as long as you use it carefully, there will be no major problems. When it comes to safety, there are unsafe factors everywhere, as long as you pay attention to it. In addition, walking aids are medical devices for external use, and no side effects have been found for the human body for the time being. However, in order to achieve better results, Rollator Walker manufacturers still recommend consumers to use them correctly. So how to use it?
Older people start walking with a walker. If you have a leg injury or disability, you first need to push the walker forward one step while keeping your body upright. Step into the walker, then place one foot in the walker, keeping the walker still as you walk.
Also, step out with your other foot, step your other foot into the walker, and the walker remains in place. Keep moving your walker forward and repeat the process. These three steps become smoother when used consecutively. It is used for standing and walking of patients with severe functional impairment of the lower limbs.
Rollator Walker is easier to operate than the wheelless walker. It is pushed by the user and can move forward continuously. The front wheels are fixed, and the wheels only roll forward or backward. Directional good. Before use, adjust it to the height that suits you. When adjusting, you can press the bullet button with your fingers, and adjust it up and down to a suitable height before using it.