So, you've decided that an electric blanket is the way to go for keeping toasty warm at night, helping you sleep better and soothing any aches and pains you may have – great choice! Now you just have to decide which one is right for you. One of the deciding factors when choosing an electric blanket is the fabric with which it is made. There are plenty of options and each has its own features and benefits. Here is our guide to choosing which one is right for you.
Polyester
This is by far the most common fabric used in electric blankets because it's such a versatile material being both soft and fire-resistant. If you associate polyester with the cheap, static-inducing shirts of the 1970s, be assured that polyester has come a long way and today's polyester fabrics are soft and cosy. It is, however, still a very cost-effective material which makes polyester blankets cheaper than most other materials. It also washes really well and will last a long time.
Fleece
Fleece blankets are, as you would expect, soft and fluffy so if you're looking for something to really snuggle down and sink into then this is the blanket for you! Very cosy for cold nights, fleece blankets also tend to be thicker than polyester ones.
Faux Fur
Faux fur electric blankets take the snuggle-factor from fleece blankets and raise it a level! Super soft and luxurious, these blankets bring some Scandinavian log cabin chic to your bedroom.
Diamond-Quilted
These are premium blankets with a gorgeous, quilted flannel fabric that provides real luxury. One of the main differences you would notice between this and other fabrics is its thickness which provides great insulation for the heating wires. It's also really soft to the touch. Diamond-quilted fabric is more expensive than polyester or fleece but when you see the thickness and feel, you will see why.
Anti-allergy
As the name suggests, anti-allergy electric blankets incorporate hypoallergenic technology to provide a safe and restful night's sleep for those with allergies. This primarily helps protect your blanket against the infestation of dust mites and their eggs but also prevents bacteria developing. Many anti-allergy blankets also offer an anti-mite heat boost that you can use periodically which will kill dust mites and eggs.
Use flannel bedsheets in the winter
Flannel is a great choice of material for bedsheets in the winter. Flannel is cotton that's been brushed to make it fluffy, rather than smooth like normal cotton sheets.
All that extras fluffiness means more air is trapped, which makes it a better insulator.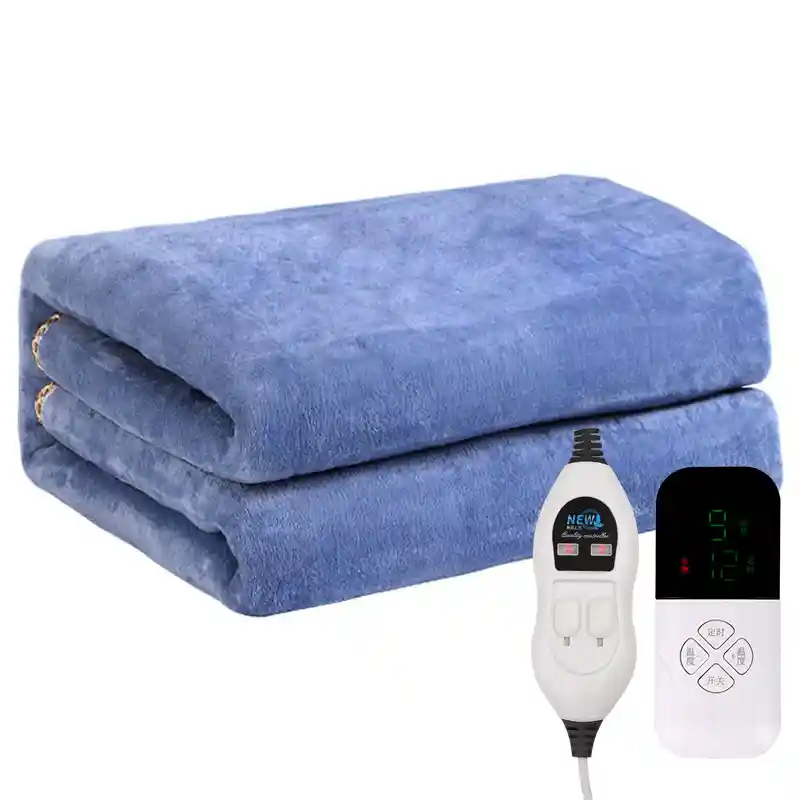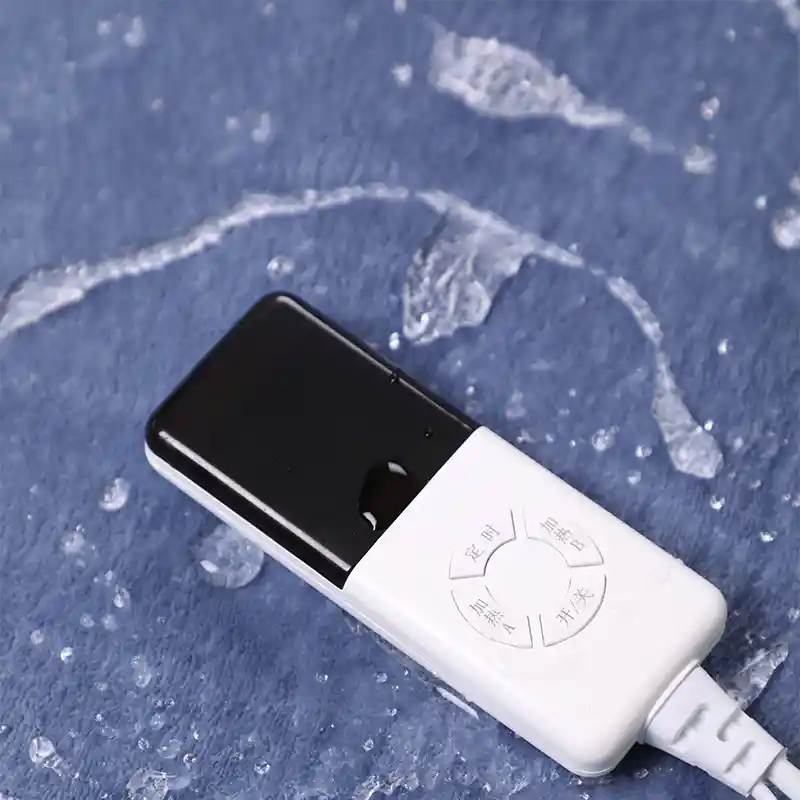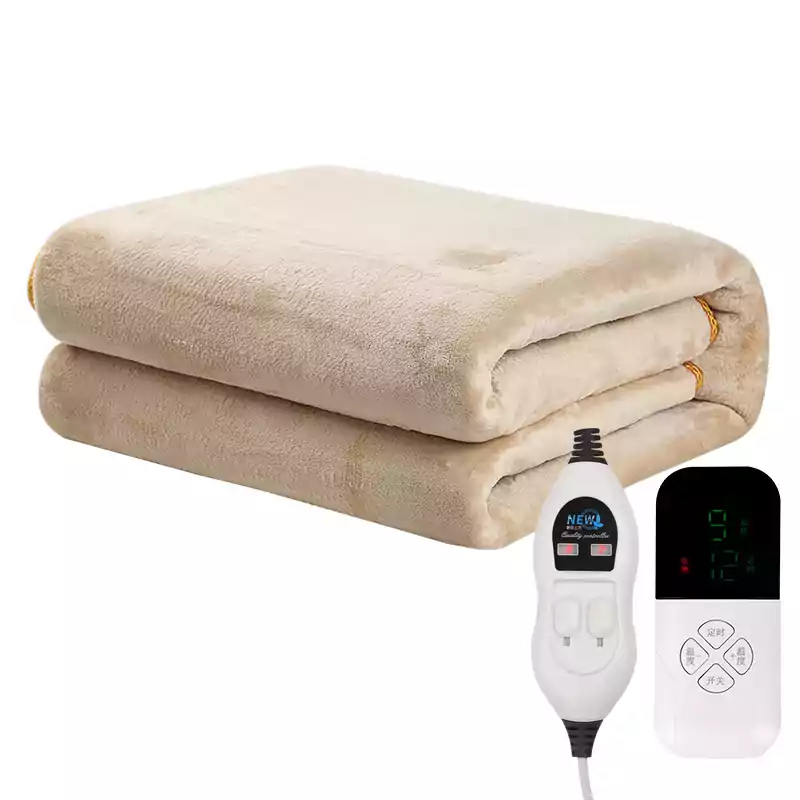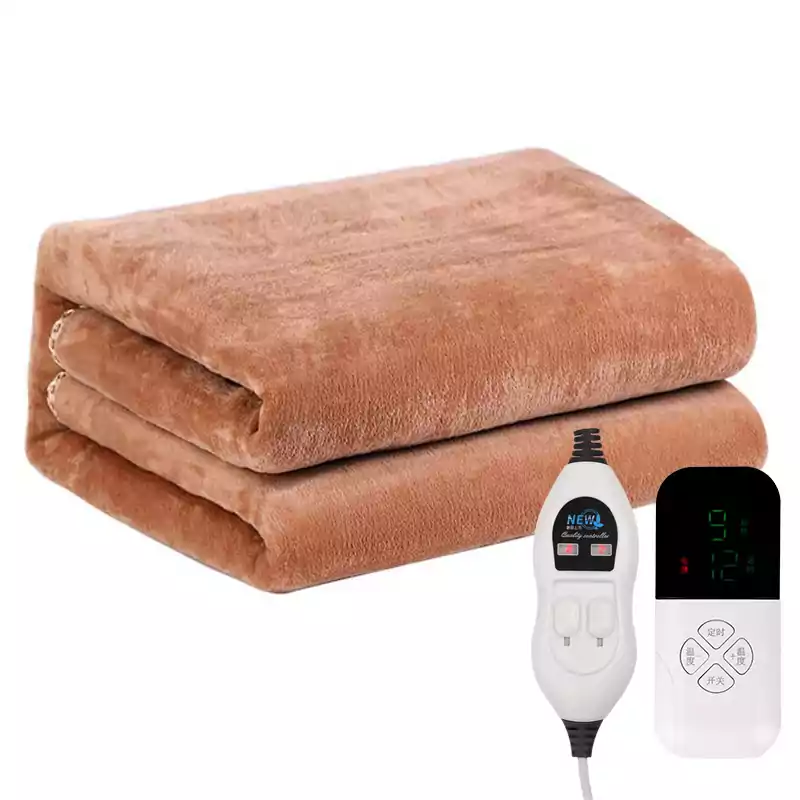 Flannel Electric Blanket
Name
Flannel electric heating mattress
Voltage
220V
Fabric
Flannel 600g/㎡
Switch Model
Temperature control switch/intelligent switch
Product Packaging
Non-woven handbag/gift box packaging
Case specification
79*55*71
Style/color
Haze blue, khaki, brown
Model
Temperature control switch/intelligent switch
Net weight
Number
Power
Specification
1.5*0.8m/Single control
0.9-1.1kg
20pcs/box
65w
1.8*0.9m/Single control
1.4-1.6kg
18pcs/box
80w
1.8*1.2m/Single control
2kg
12-14pcs/box
100w
1.8*1.5m/Dual Control
2-2.3kg
12-14pcs/box
140w
2*1.8m/Dual Control
2.36-2.7kg
10-12pcs/box
190w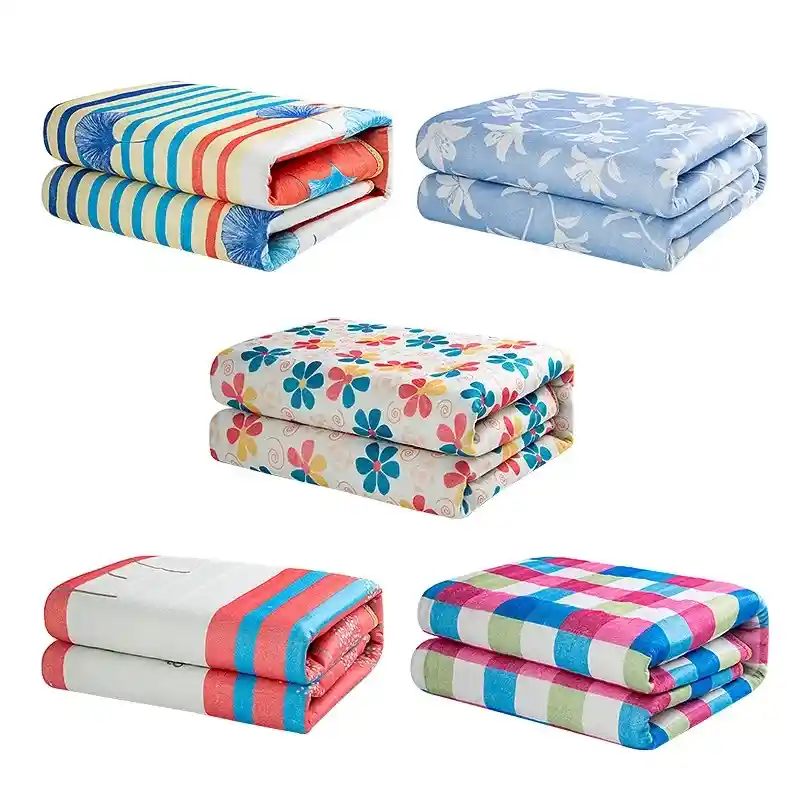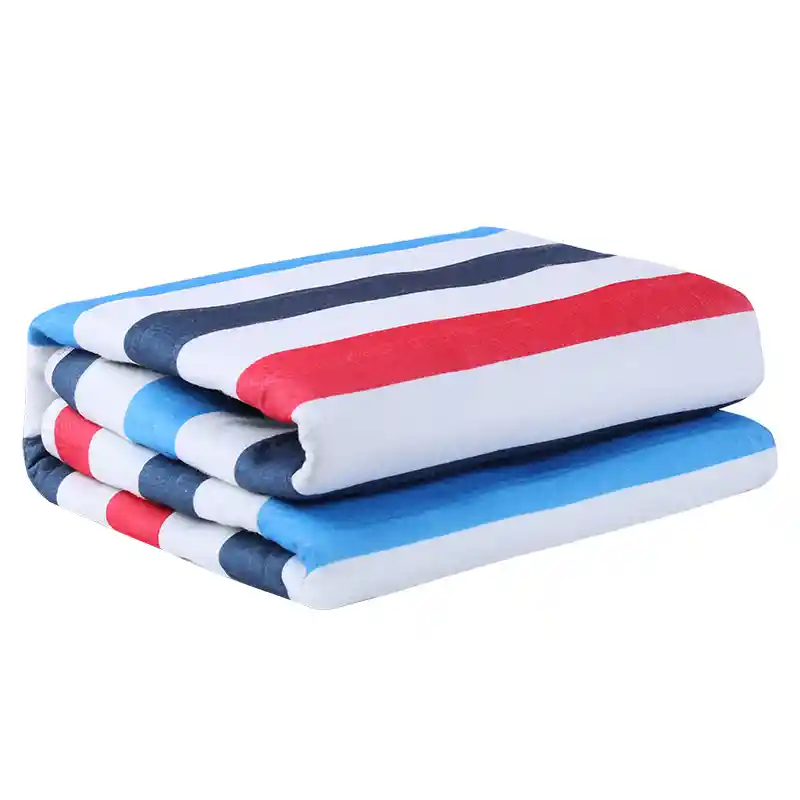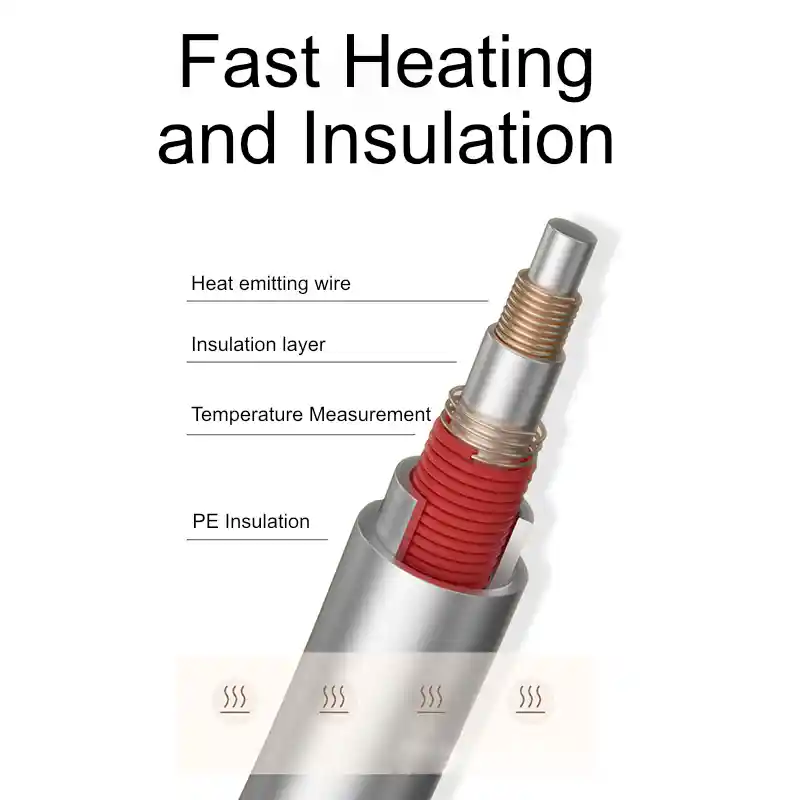 Electric Heating Mattress
Name
Printed electric heating mattress
Voltage
220V
Fabric
Non-woven 480g/㎡
Switch Model
Temperature control switch/intelligent switch
Product Packaging
Non-woven handbag/gift box packaging
Case specification
79*55*71
Model
Temperature control switch/intelligent switch
Net weight
Quantity
Power
Specification
1.5*0.7m/Single control
0.75kg
30pcs/box
50W
1.5*0.8m/Single control
0.9kg
30pcs/box
65W
1.8*0.9m/Single control
1kg
20pcs/box
80W
1.5*1.2m/Single control
1.2kg
20pcs/box
90W
1.8*1.2m/Single control
1.5kg
14pcs/box
100W
1.8*1.5m/Dual Control
1.6-1.7kg
14pcs/box
140W
2*1.8m/Dual Control
2.4kg
14pcs/box
190W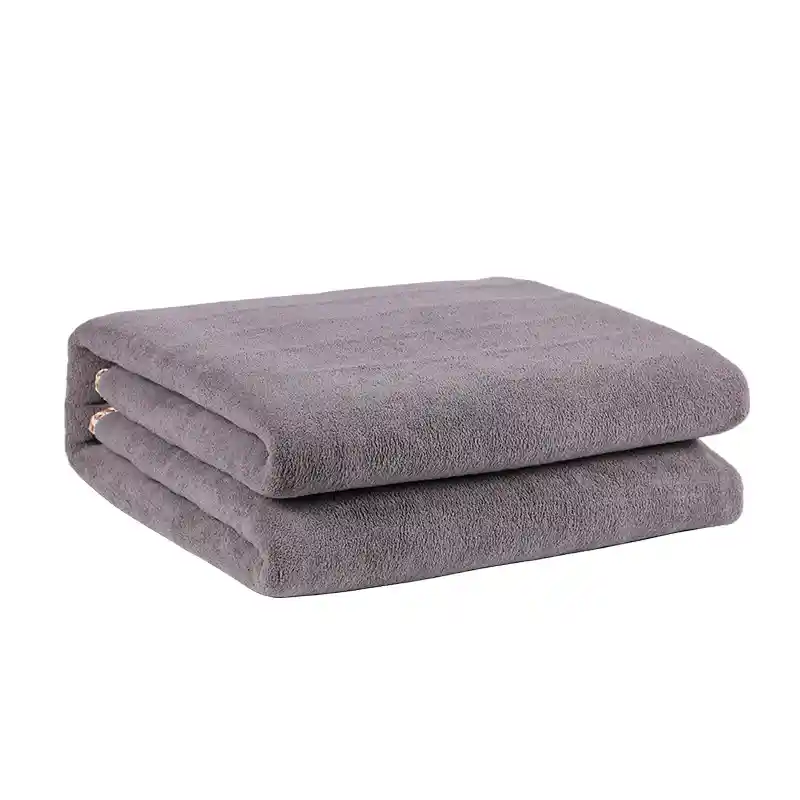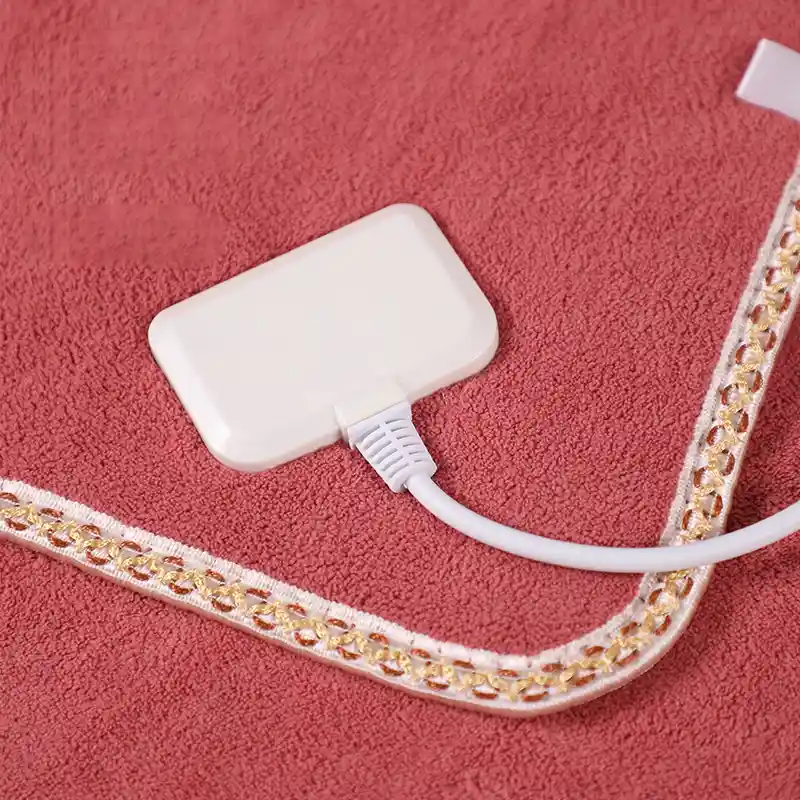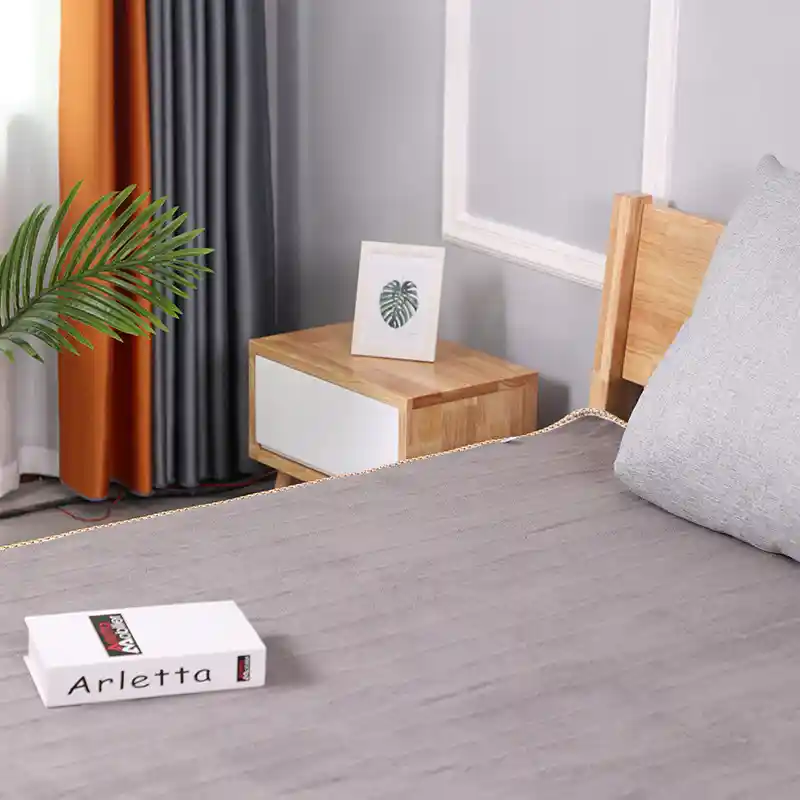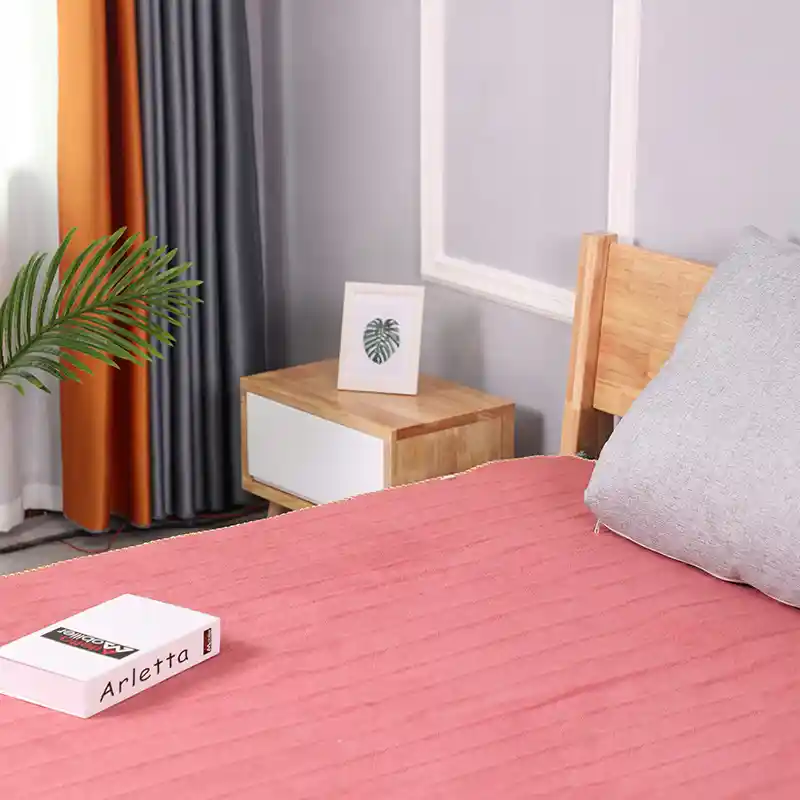 Ant-Fleece Heating Mattress
Name
Ant Fleece electric heating mattress
Voltage
220V
Fabric
Ant Fleece 620-630g/㎡
Switch Model
Temperature control switch/intelligent switch
Product Packaging
Non-woven handbag/gift box packaging
Case specification
79*55*71
Style/color
Watermelon red, anthracite
Model
Temperature control switch/intelligent switch
Net weight
Quantity
Power
Specification
1.5*0.8m/Single control
1.08-1.2kg
20pcs/box
65w
1.8*0.9m/Single control
1.45-1.6kg
16-18pcs/box
80w
1.8*1.2m/Single control
2.2kg
12-14pcs/box
100w
1.8*1.5m/Dual Control
2.5kg
12-14pcs/box
140w
2*1.8m/Dual Control
2.6-3kg
10-12pcs/box
190w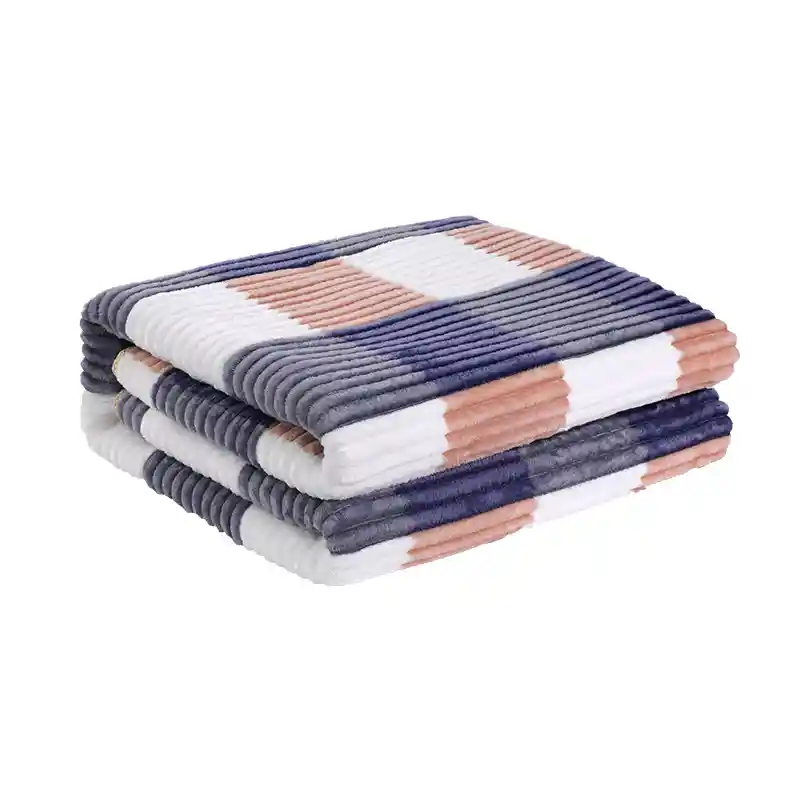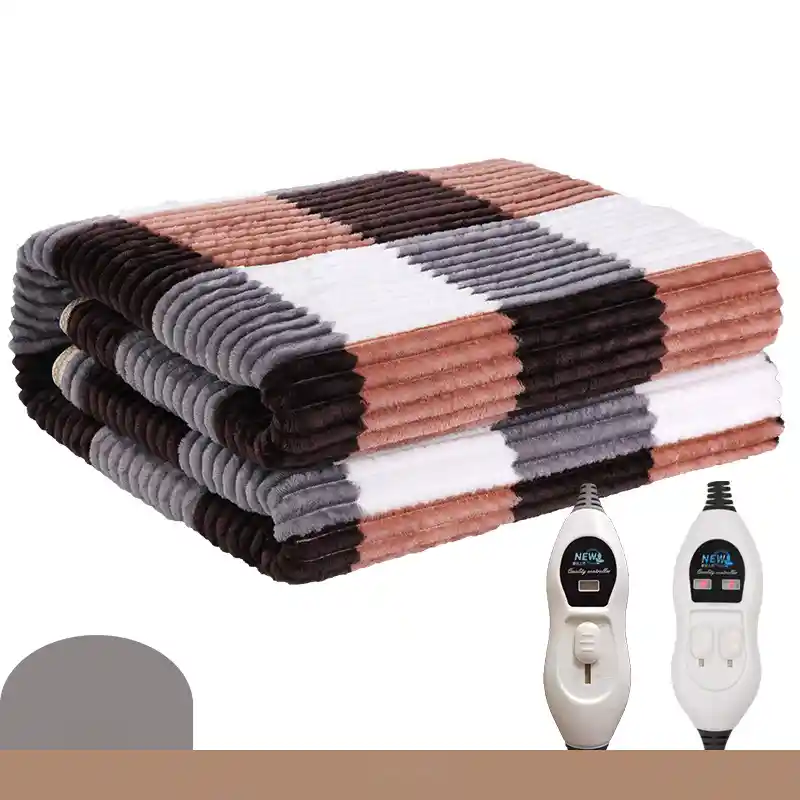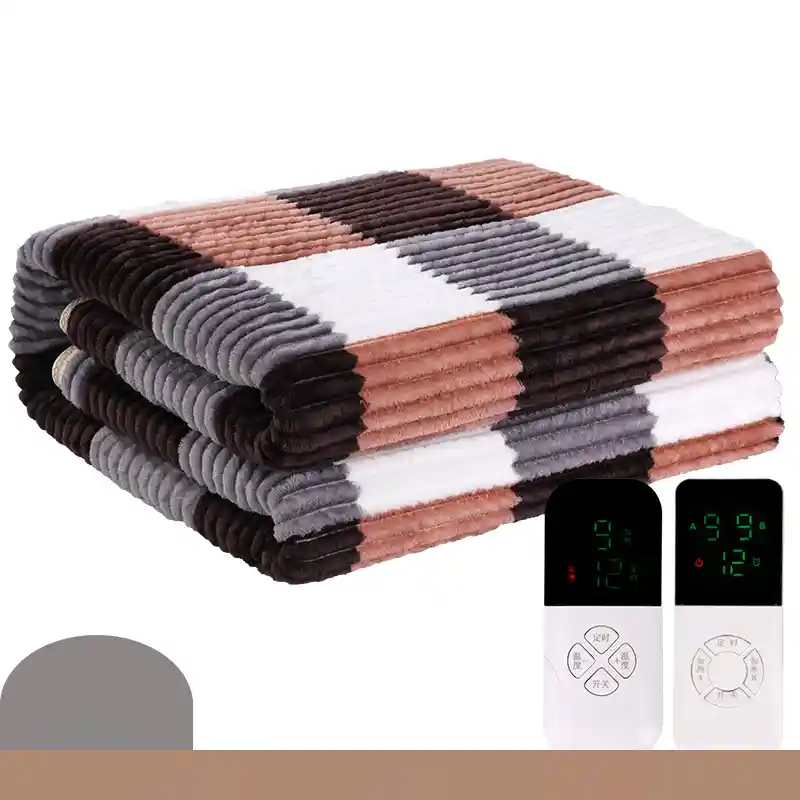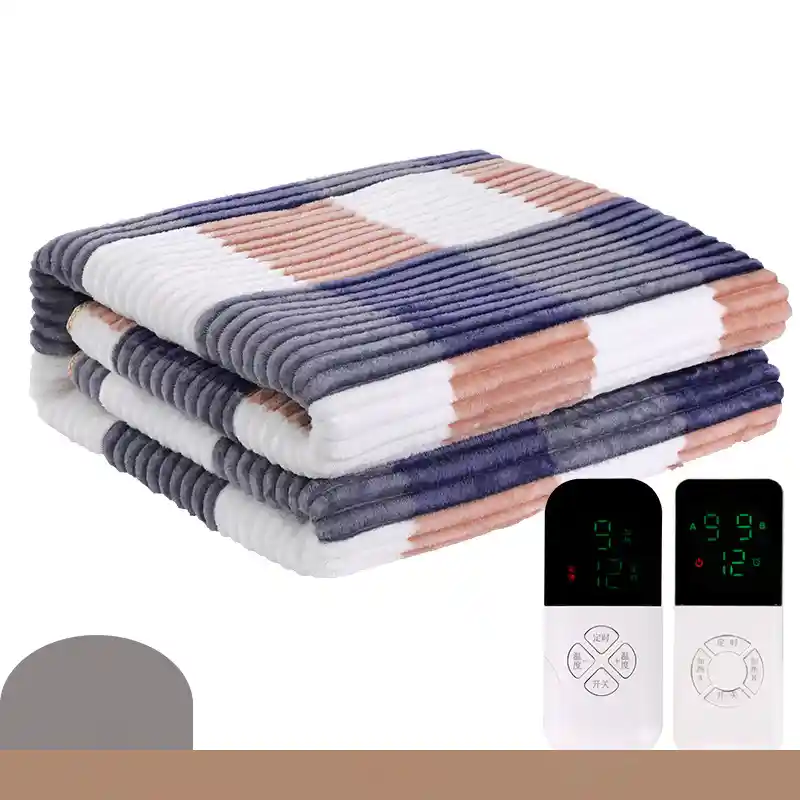 Drawstring Fleece Electric Heating Mattress
Name
Drawstring Fleece electric heating mattress
Voltage
220V
Fabric
Drawstring Fleece620-630g/㎡
Switch Model
Temperature control switch/intelligent switch
Product Packaging
Non-woven handbag/gift box packaging
Case specification
79*55*71
Style/color
Gray-brown, blue-pink
Model
Temperature control switch/intelligent switch
Net weight
Quantity
Power
Specification
1.5*0.8m/Single control
1.08-1.2kg
20pcs/box
65w
1.8*0.9m/Single control
1.45-1.6kg
16-18pcs/box
80w
1.8*1.2m/Single control
2.2kg
12-14pcs/box
100w
1.8*1.5m/Dual Control
2.5kg
12-14pcs/box
140w
2*1.8m/Dual Control
2.6-3kg
10-12pcs/box
190w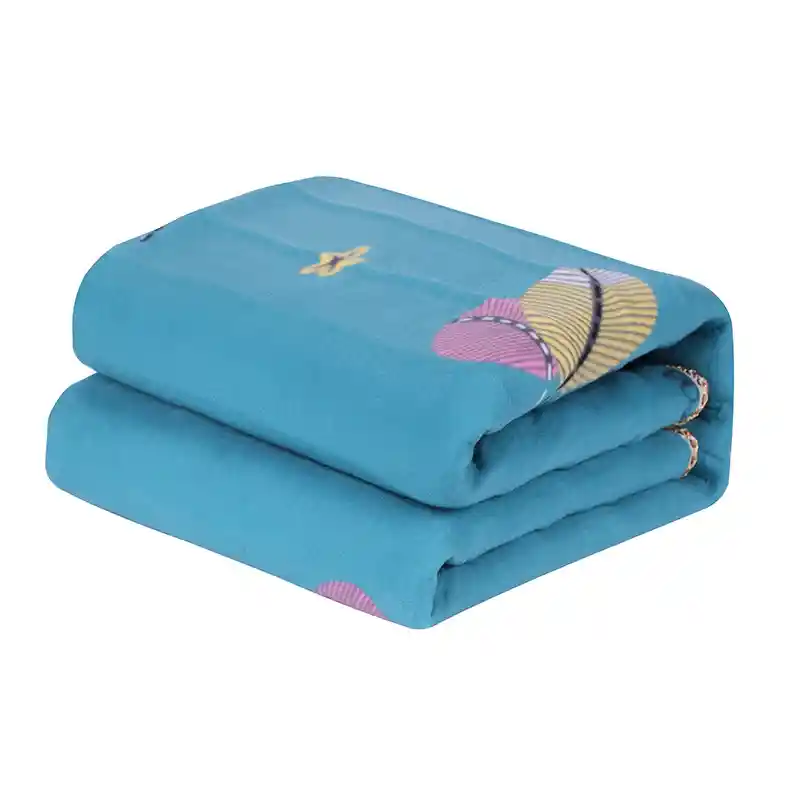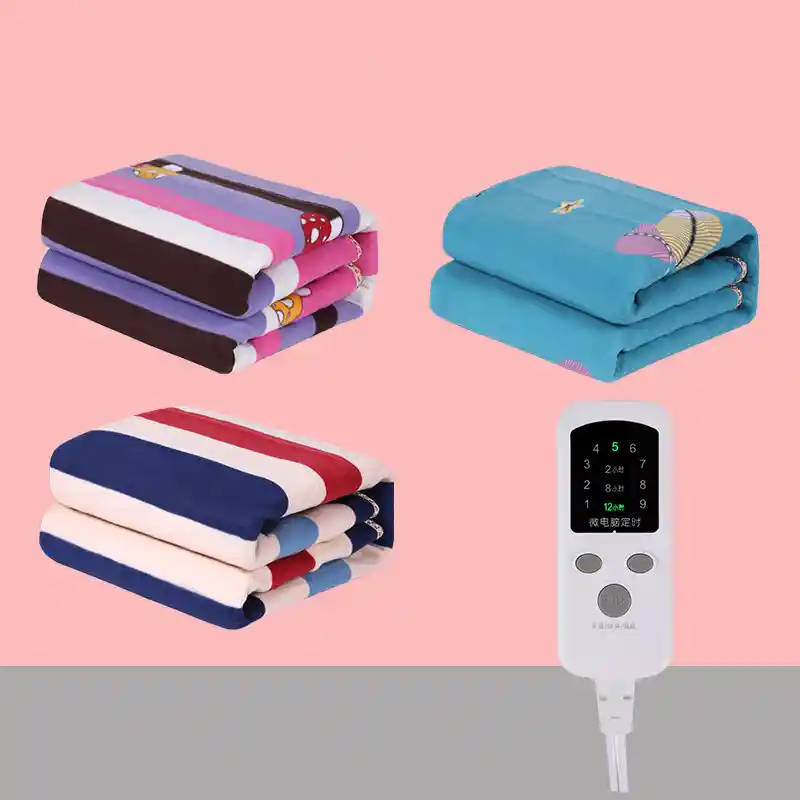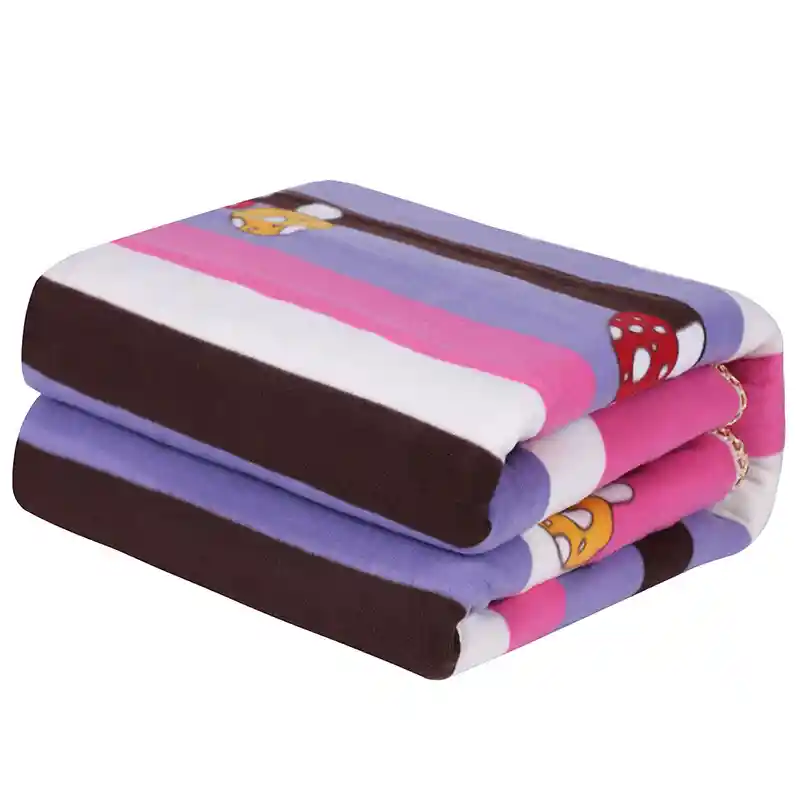 Water Heating Electric Blanket
Name
Water heating electric blanket
Voltage
220V
Fabric
Blanket Fleece 550-560g/㎡
Switch Model
intelligent switch
Product Packaging
Non-woven handbag/gift box packaging
Case specification
79*55*71
Model
intelligent switch
Net weight
Quantity
Power
Specification
1.8*0.9m/Single control
2.5kg
25pcs/box
80W
1.8*1.5m/Single control
3.3kg
12-14pcs/box
140W
2*1.8m/Single control
4.1kg
10-12pcs/box
190W
Water was filled in the factory, refill water again after 20 days usage.(the small yellow cap is filling application)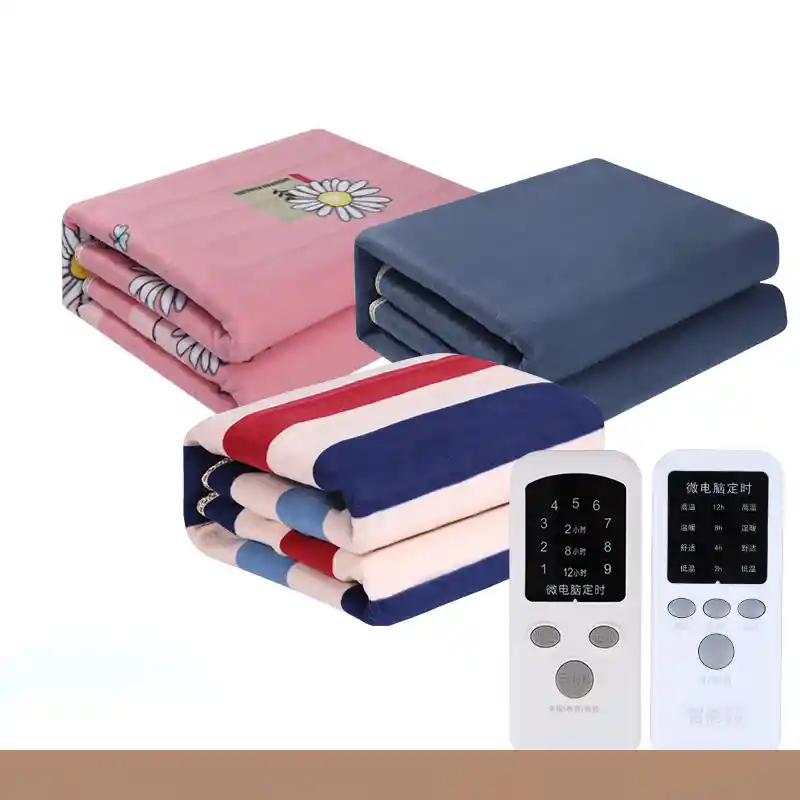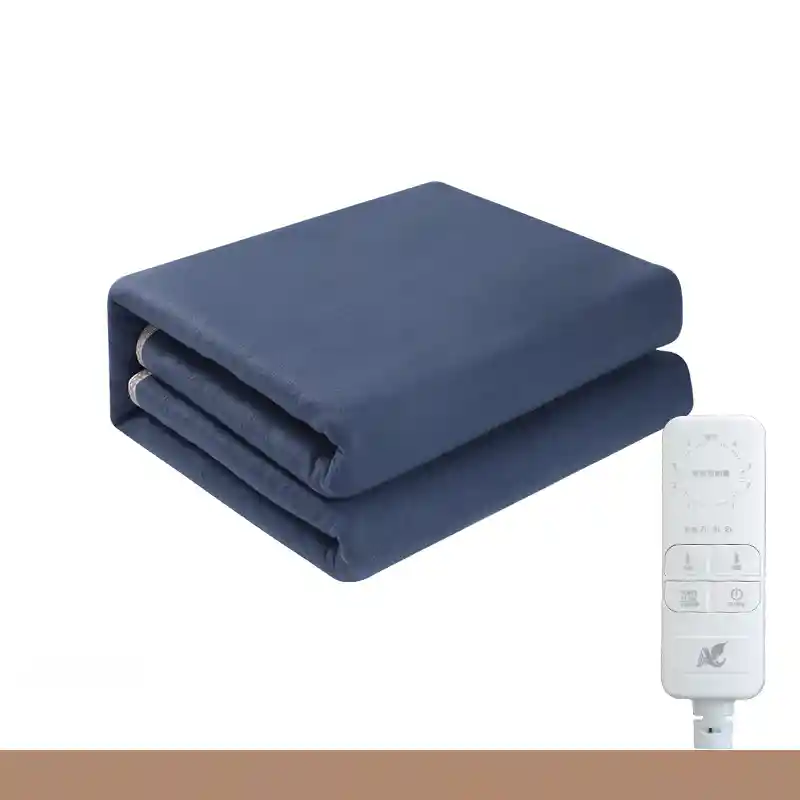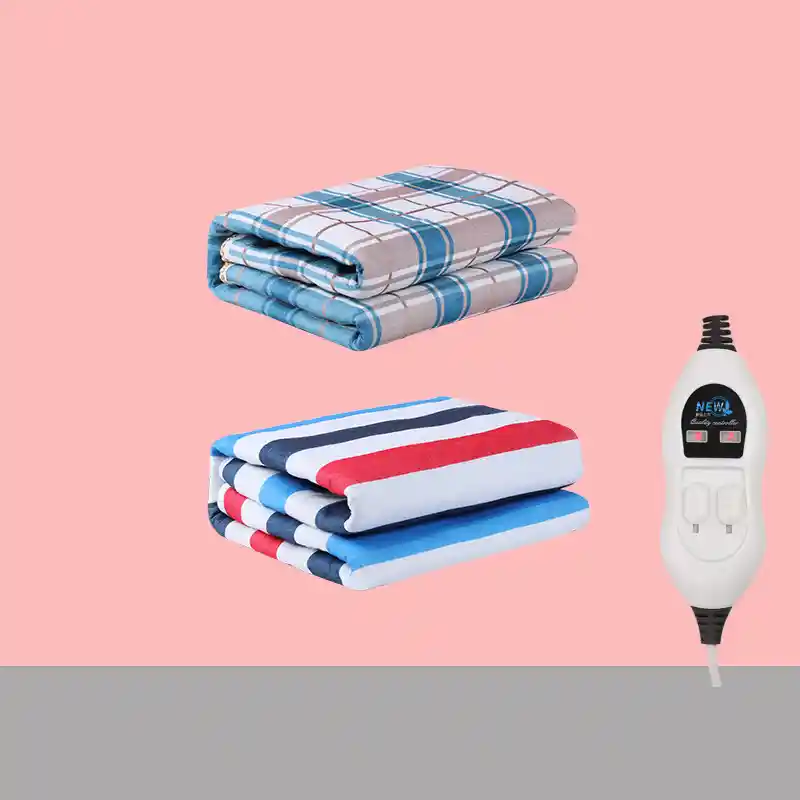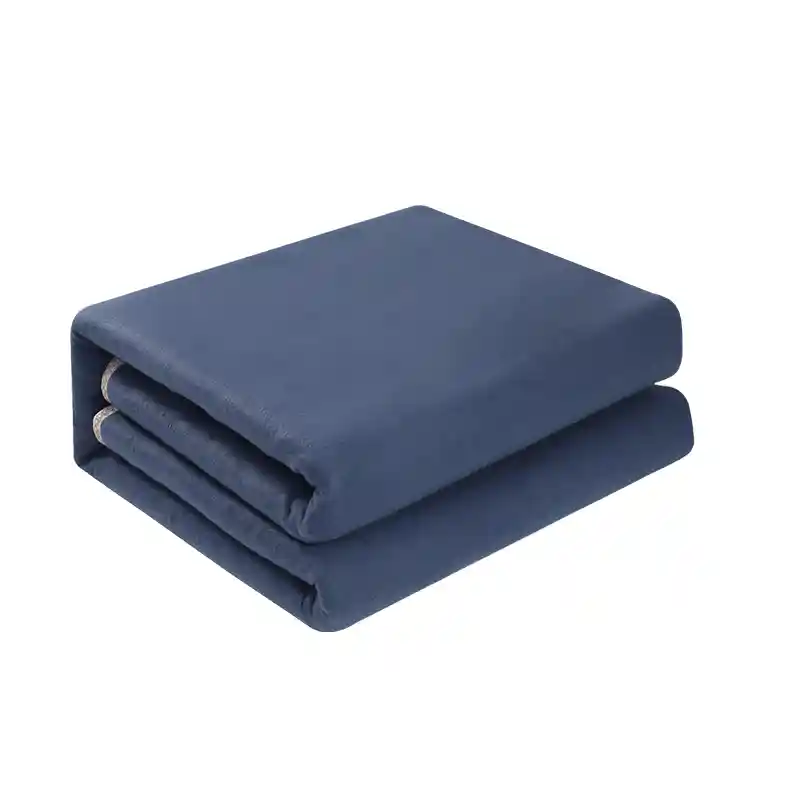 Blanket Fleece Electric Heating Mattress
Name
Blanket Fleece electric heating mattress
Voltage
220V
Fabric
Blanket Fleece 550-560g/㎡
Switch Model
Temperature control switch/intelligent switch
Product Packaging
Non-woven handbag/gift box packaging
Case specification
79*55*71
Model
Temperature control switch/intelligent switch
Net weight
Quantity
功率
Specification
1.5*0.7m/Single control
0.8kg
30pcs/box
50W
1.5*0.8m/Single control
1kg
30pcs/box
65W
1.8*0.9m/Single control
1.05kg
18-20pcs/box
80W
1.5*1.2m/Single control
1.25kg
18-20pcs/box
90W
1.8*1.2m/Single control
1.8kg
14pcs/box
100W
1.8*1.5m/Dual Control
1.8-2kg
14pcs/box
140W
2*1.8m/Dual Control
1.9-2.7kg
14pcs/box
190W