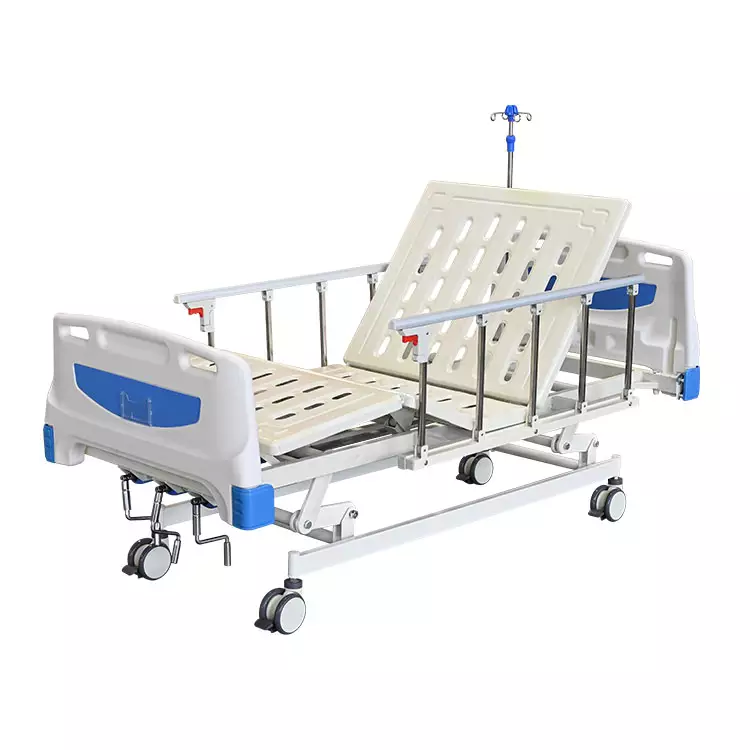 3 Crank Manual Medical Hospital Bed
| | |
| --- | --- |
| Product name | Manual 3 Crank nursing bed |
| Product size | 2000*900* 500 |
| Applicable people | Bedridden patients |
| Cooperation mode | OEM ODM |
| Product material | Steel products |
| Product packaging | Default carton |
3 crank manual medical hospital bed is also called three functions manual medical hospital bed. The main function of the hospital bed 3 cranks is its back adjustment, leg adjustment and height adjustment. 3 crank hospital bed can add on-bed infusion poles and over-bed tables and other related basic configurations.
OEM/ODM Basic Introductions
Accessories Change
Accept accessories change according to your need, please contact us for different accessories.
Size Change
Hospital beds length can be changed easily according to your need. Because ABS headboard and foot-board width is hard to change, so hospital beds width is hard to change. If choose wooden type headboard and foot-board, change hospital beds width is easy to realize.
Logo
Your logo can be put onto both packaging carton box and hospital beds. Please contact us for references cases.
Bed Color Change
Bed body color can be changed according to your need. But MOQ is needed.
Packaging Box
We use 5-layer and 7-layer cartons to pack hospital beds. It is strong enough for common products. Special requirements, please contact us.
| | |
| --- | --- |
| Internal diameter | 1900*900*500mm |
| External diameter | 2050*960*500mm |
| Headboard And Footboard | One-step injection molding with ABS technology |
| Guardrail | ABS guardrail |
| Wheel | Individual brake wheel,Sturdy and durable,rolling more flexible, no noise. |
| Infusion rod | Stainless steel material,flexible operation,easy and convenient |
| Mattress | 6cm thick high-grade waterproof cloth,easy to clean and disinfect |
| Applicable people | Old,young,sick,paralyzed and other inconvenient people |
Do You Accept Oem/odm Orders For Hospital Beds? OEM/ODM orders of basic hospital bed are highly welcomed. We have years of experience in good control of every step for OEM/ODM orders as a hospital bed manufacturer. Please refer to the article "Hospital Beds OEM/ODM Key Points" in our website.
Can We Change The Size Of A Hospital Bed? The length of a hospital bed can be changed easily according to your request. However, it is hard to change the width of the patient bed hospital. Please refer to the article "Hospital Beds OEM/ODM Key Points" on our website.
What Are The Main Factors That Influence The Hospital Bed Price A Lot? There are many factors that influence the hospital patient bed price a lot. Such as raw materials, accessories, labor cost and so on. Please refer to the article "Why Same Bed, But Different Price" on our website.
Your Hospital Beds Warranty Policy? We offer 5 years warranty for types of medical bed frames and hospital bed boards. For the accessories of medical supplies hospital beds such as motors, head board & foot board, side rails, we offer a 1-year free warranty and life-long rechargeable maintenance.